Bret & Roni's story
Jeremy
Now that the dust has settled from an absolutely epic burn this year, I feel compelled to write you to let share a story about Ascension. Apologies for the mini novel below, but I didn't want to leave any details out. As you may or may not recall, I came out to the Box Shop back in July to help you very early on with the build. For the last couple of years, I've gone to Burning Man somewhat last minute, and one of my intentions for this year was to be much more involved, both with my camp and with an art project.
When my friend Jenny Rudnik shared your project with me, something struck a chord. I'm not sure if it was the meaning behind the project, beauty, the size/scope of the endeavor, or the sheer accessibility to me here in the city...but whatever it was I was drawn to it.
That first day in the box shop where I helped you carry, cut and bend steel was amazing. It was the first time I had a chance to get my hands dirty on a project like that since college and it felt incredible. Almost immediately after that first build day however, my friends and I decided to embark on the PlayaBeest, and unfortunately the remainder of my time would be consumed by our project. Even though I only spent a day with you, I remained one of your biggest fans and was glued to all of your FB updates and shared them with everyone I knew. I didn't know why, but something told me this was going to be special.
For whatever reason, true love has evaded me for most of my life. I'm 34 years old, and although I've had one serious relationship that lasted for about 2 years, in the end it was not meant to be. I've dated plenty, and have had many opportunities to pursue more serious relationships, but no one has inspired me or checked off enough boxes for what I'm looking for in a partner. As you can imagine, these last few years have been difficult watching friends and family settling down, getting married and starting families. I've always felt I've had so much love to give, but I've also been unwilling to settle for anything short of my dream girl. Although I still believed it would happen for me, I'd be lying if I didn't admit that some doubts had started to creep in as to if I would actually find true love. Little did I know, I was about to meet that very person at this year's burn!
Fast forward to the playa - we're setting up camp and a girl named Roni walks in. I met Roni at last year's burn through a mutual friend, and was immediately struck by her beauty. Seeing her again this year made my heart race, and we immediately hit things off. Luckily, neither she nor I were in a relationship...it was on!
We had an incredible week together - flirting, getting to know each other. She is 36 and has also been unable to find love up until this point. When I asked her why, she had similar reasons and said that she knows what she's looking for and she simply hasn't found it yet. In the meantime however, we've both been growing as individuals, pursuing our dreams. She's become an extremely successful entrepreneur who has grown her business into what is now the largest yoga studio in Tampa Bay. She's a certified Outward Bound instructor, ice climber, world traveler, and all around badass! I too have found success in my career as well, heading up business development at Indiegogo, running a podcast, traveling the world and pursuing my passions.
All week I hadn't been able to visit Ascension due to the playabeest build, but I knew I had to get there before the end of the burn...and now, I felt so lucky to have Roni to share it with. Earlier in the week I had asked her on a playa date, and when Friday rolled around, we were off. We started off cruising the city, bouncing around from camp to camp visiting bars, playing on trampolines, taking photos. She was planning the 2nd half of the date and wanted to take us to Temple for sunset.
On the way out, I remembered Ascension and told her there is one stop we have to make. It was early evening when we arrived, and there was a small crowd around the base. I gave her the background of the project and told her we had to climb up to the top. When we were up there, we felt like we were in our own little world. It was incredible and I didn't want our time to end, but it looked like there were some folks waiting to come out.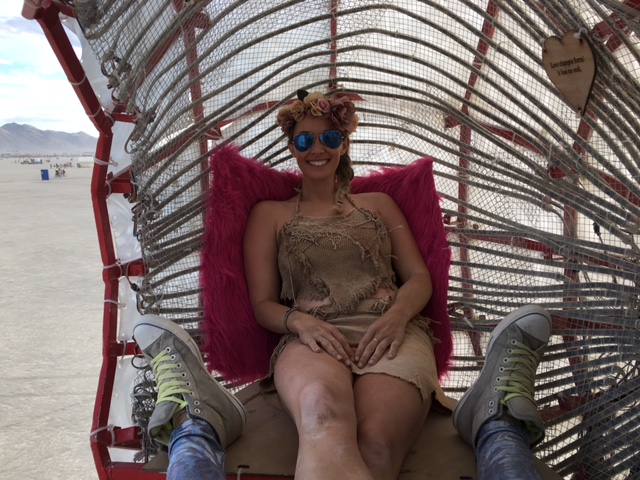 All of a sudden, the weather quickly changed and a huge sand storm struck. It was cold and stifling outside, a total white-out...yet we were completely protected inside the heart.
Not only were we protected from the storm, but it gave us time to enjoy each other's presence and kept the others away. We shared promises of love and affection, shared our hopes for the future, and how we would care for each other and love each other, honestly and wholly...which was pretty incredible given the fact that we'd really only known each other for a few days! But everything just felt so natural and so right...so familiar.
When the dust cleared, we saw a couple taking wedding photos below. It was beautiful and perfect.
We were then off to the Temple where we enjoyed the sunset and left messages for each other to burn on Sunday. The rest of the week was pretty incredible as well, sharing the burn together, getting stuck in a 10hr traffic jam at the gate, then sharing a 7hr road trip on the way back to SF...then finally getting to clean off and go on a real-world date...
But for me, it was that moment up in Ascension...when the world was closing all around us that I knew I had found the one. I was done searching....she's the one. And the even more incredible thing is that she feels the same!!! We're both so incredibly happy and so helplessly in love...and in spite of currently living in two separate cities (Tampa and SF), I know we're going to have an incredibly long and loving life together.
At any rate, sorry again for the huge email, but Ascension played such a pivotal role in the sparking of our relationship that I had to share the story with you. Thank you for building such an amazing art piece and for sharing it with the world, thank you for allowing me to participate, and thank you for helping me find the love of my life!
Sincerely,
Bret & Roni